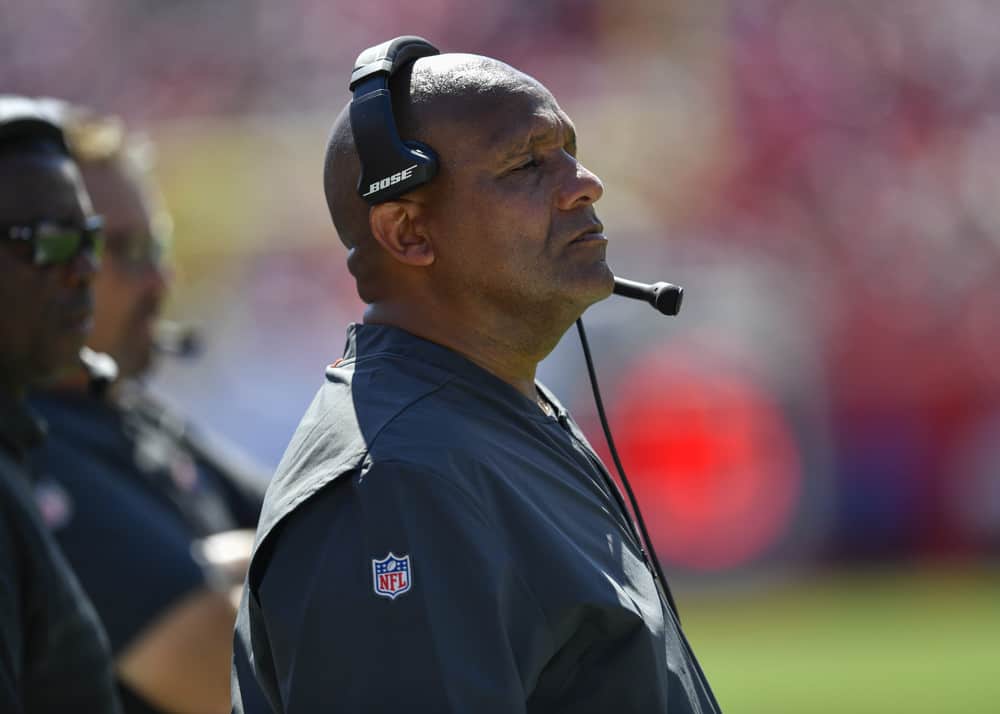 The Cleveland Browns did not have much success while Hue Jackson was the head coach.
The organization went 3-36-1 before Jackson was let go mid-way through the 2018 season.
There are plenty of reasons as to why the organization struggled to consistently have success under Jackson.
One of the bigger problems was that Jackson and quarterback Baker Mayfield never seemed to see eye-to-eye.
Here we are in 2020 and the feud between the two continues to live on.
Mayfield vs Jackson
Jackson claims that Mayfield verbally attacked him during his rookie season.
The organization was 1-31 under Jackson before Mayfield arrived in town.
Jackson decided to start Tyrod Taylor over the team's No. 1 overall pick in Mayfield to begin the season.
The team started off 2-5-1 and Jackson was fired during the first half of the season.
After being fired, Jackson says that Mayfield's struggles on the field were the main reason that he was fired.
Hue Jackson on @923TheFan on fallout with Baker Mayfield: "I've never had a player attack me that way."

— Keith Britton (@KeithBritton86) June 10, 2020
It was most likely his horrendous playing calling or the fact he won three games in two and a half seasons that got him fired.
Shortly after being fired, Jackson took an assistant job with the Cincinnati Bengals.
Mayfield called Jackson "fake" for taking a job with the Browns division rival immediately after being fired by the Browns.
#Browns Baker Mayfield admitted he didn't like Hue Jackson defecting to the #Bengals so soon. Gave him a chilly reception pic.twitter.com/hF480gMc7N

— Mary Kay Cabot (@MaryKayCabot) November 25, 2018
Mayfield stated that he wanted to get revenge on Jackson after he decided to take a job with the enemy.
"I'm not gonna lie to you and say that the first time I played Hue did not feel good. It's human nature to want to get revenge," said Mayfield.
Since Jackson's departure the Browns are 11-13, so it appears the organization is better off without Jackson around.
The Browns Without Jackson
The organization is in great shape heading into the 2020 season.
Cleveland has revamped their offensive line and added Pro Bowl tight end Austin Hooper this offseason.
The team appears to be ready to compete for a playoff spot this upcoming season.
Jackson has thrown plenty of the blame on Mayfield since leaving the Browns.
However, he did state that his issues with Mayfield were not because of his talent.
Hue Jackson never had a problem with Baker Mayfield as a player. pic.twitter.com/JEEOst8V83

— Everything Cleveland (@EverythingCLE_) June 5, 2020
Jackson has also said he would've drafted Carson Wentz, Deshaun Watson, and Patrick Mahomes.
He also mentioned that he would've signed Colin Kaepernick in 2017, but the Browns front office refused to sign him.
At this point, it's safe to take everything Jackson says with a grain of salt because he just wants to look innocent and throw the blame on everyone else.
People always boil it down to Baker, but it went far beyond him, clearly. From the second he got here, I never saw a coach toss his players under the bus more than Hue Jackson. #Browns https://t.co/DjaRxsFKAZ

— Jeff D Lowe (Not Tiger King Guy) (@JeffDLowe) June 10, 2020
The organization has hired Minnesota Vikings offensive coordinator Kevin Stefanski as their new head coach in 2020.
He played a huge part in helping quarterback Kirk Cousins bounce back last season, so hopefully he can work some of his magic on Mayfield.
The Browns are looking to make the playoffs for the first time in 17 seasons, but have a realistic shot at it this upcoming season.
The players seem eager and excited to begin working with their new head coach.
Maybe the Browns can finally put this Jackson vs Mayfield drama behind them finally and focus on the future.