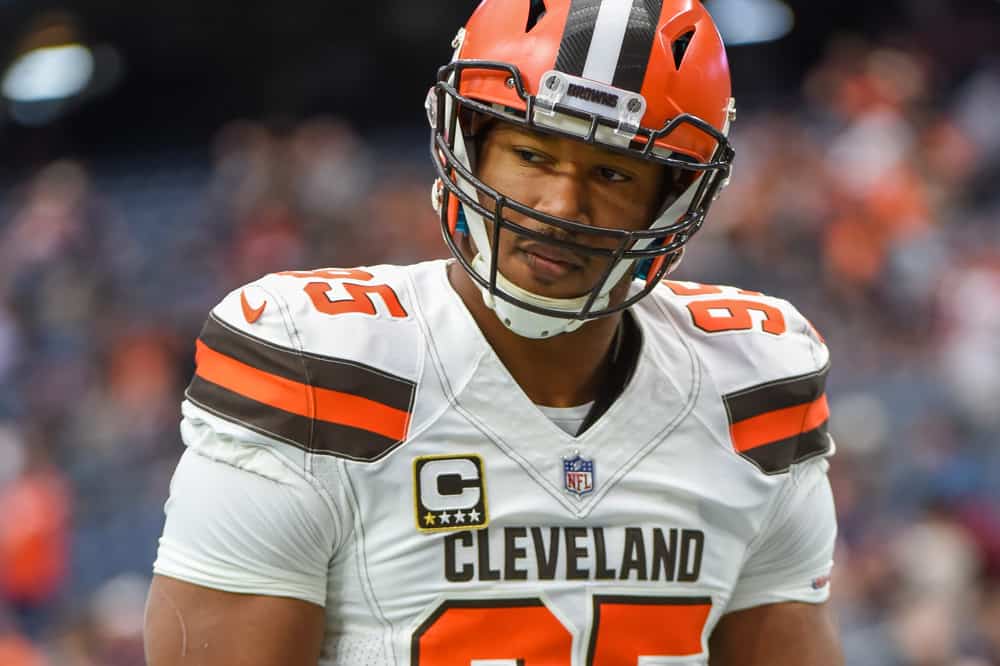 All offseason long, there were rumors that the Cleveland Browns would lock up defensive end Myles Garrett to a massive extension.
The 24-year-old pass rusher has quickly become an elite player in the league and well-deserving of a new deal.
A few weeks ago, the two sides came together and made Garrett the highest-paid defensive player in the NFL.
Details on the extension for the #Browns and Myles Garrett: In his rather large 5-year, $125M extension, there are $100M in total guarantees and $50M fully guaranteed at signing. He's now under contract 2026. https://t.co/873RKFYdbk

— Ian Rapoport (@RapSheet) July 14, 2020
A five-year deal worth $125 million, with $50 million guaranteed at signing and $100 million in overall guarantees.
Garrett has proven to be well worth the money, but at the time it seemed like no one was going to beat that.
Surprisingly, Garrett held the title for less than two weeks before having it broken.
Joey Bosa's Contract
The Los Angeles Chargers decided it was time to lock up the former No. 3 overall pick Joey Bosa.
The organization made Bosa the highest-paid defensive player with an even bigger deal than Garrett.
Chargers and DE Joey Bosa reached agreement on a 5-year, $135 million extension that ties him to LA the next six years, league sources tell ESPN. He had $78M fully guaranteed at signing and $102M guaranteed – a new NFL defensive record.

— Adam Schefter (@AdamSchefter) July 29, 2020
He signed a five-year, $135 million extension that includes $78 million fully guaranteed at signing and $102 million guaranteed overall.
The price tags for elite pass rushers is quickly rising, so the Browns were smart to sign Garrett when they did.
Both players are absolute superstars, but the Garrett deal could end up being a bargain for the Browns.
Garrett vs Bosa
Over his four year career. Bosa has 201 tackles, 53 tackles for loss, and 40 sacks through 51 games.
He has made the Pro Bowl twice and is looking like one of the best young players around the league.
Garrett has significantly less games played and is one full season behind Bosa.
Despite that, Garrett still has the stats to back up his performance on the field.
Through three seasons, Garrett has 104 tackles, 32 tackles for loss, and 30.5 sacks through 37 games.
He has only made one Pro Bowl but was well on his way to another before being suspended last season.
Bosa does destroy Garrett when it comes to tackling, but pass rushers get paid on productivity.
Getting to the quarterback at an elite rate is a hard skillset to find and Garret has that without a doubt.
He should be able to easily surpass Bosa in sacks within the next few seasons, assuming he can stay out of trouble.
Why Signing Garrett Was Smart
As mentioned before, the price tags for elite players, especially defensive stars, continue to rise in the league.
Every superstar wants to be the highest-paid at their position, and that trend is likely going to continue.
The Browns were smart to get Garrett's deal done before he puts together another outstanding performance.
Another incredible year by Garrett was only going to skyrocket his value.
Cleveland signed him at the best time possible, coming off that six-game suspension.
The organization was able to get him at a somewhat team-friendly price.
At first glance, that deal doesn't look too friendly, but Garrett is one of the most productive defensive players in the entire league.
He is a one of a kind type of player, and the Browns were lucky to get the deal done before Bosa signed.
Now the Browns can focus on locking up the rest of their young core with the rest of their cap space.