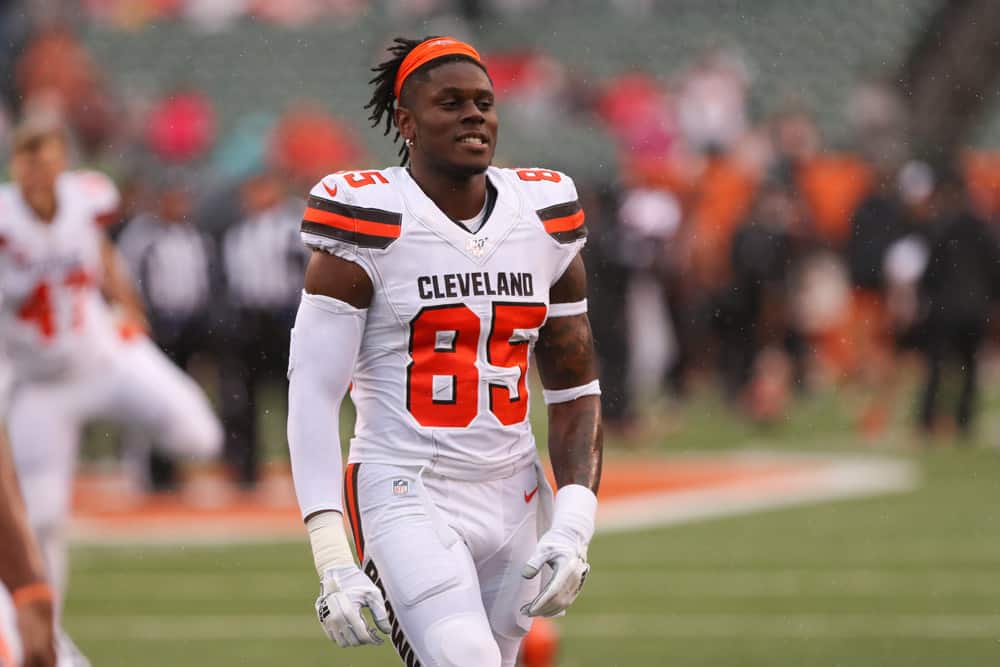 Drew Rosenhaus wasted no time demanding a trade for his newest client, tight end David Njoku.
This despite what appeared to be mutual like-fest just last month.
Rosenhaus claims he is looking out for Njoku´s best interests.
But Andrew Berry and Kevin Stefanski aren´t buying the narrative just yet.
According to a recent report from Josina Anderson, David Njoku still remains a big part of the Browns' plans in 2020.
My understanding is TE David Njoku remains a big part of the #Browns plans, going back to the winter & the transition in the organization. The belief is Njoku can have a great year still for this team. But I'm also told by a source that Njoku, "been wanted out." Bears monitoring.

— IG: JosinaAnderson (@JosinaAnderson) July 6, 2020
Njoku´s decision to change agents lends credence to a misperception between Njoku and the Cleveland Browns.
But David Njoku remains a big part of the team´s offensive plans moving forward.
What Changed Between Njoku and the Browns? 
Back on June 3rd, offensive coordinator Alex Van Pelt spoke highly of David Njoku´s skills and promise.
His accolades were echoed by Berry and Stefanski.
#Browns OC Alex Van Pelt says that he has really enjoyed TE David Njoku in Zoom meetings. Says it's a "fresh clean slate" for him this year and is excited to see what he as to offer.

— BrownsAccess (@BrownsAccess) June 3, 2020
Njoku gave himself credit for making it through a disappointing 2019 season.
His broken wrist and a fractured relationship with then-head coach Freddie Kitchens played big roles.
But Njoku was tagged with a questionable work ethic label by the previous regime, too.
His statistical production as a second-year tight end was credible, despite some inconsistency.
And even before his injury, Njoku never seemed interested in blocking much.
So when he said he appreciated the clean slate the new regime afforded him, he seemed sincere.
I gotta admit I appreciate what last year taught me. A lot of adversity was added to the plate but I'm so thankful I went through it. Clean slate.. I'm ready.

— Chief David Njoku (@David_Njoku80) June 8, 2020
When Cleveland picked up Njoku´s fifth-year option, it validated the team´s belief in him.
Baker Mayfield included Njoku in his private off-season workout sessions.
Predictions of a banner season ahead was more than lip service.
But Rosenhaus is wary of Austin Hooper´s role in Cleveland.
He wants his client to be the TE-1 somewhere before he negotiates his pending contract extension.
And it appears he convinced Njoku Cleveland is not the best spot to negotiate that contract.
Why the Browns Still Want Njoku in Cleveland 
Cleveland Browns fans like tough, hard-hitting players.
They wasted no time offering to help pack Njoku´s bags after his uneven performance to date.
But the Browns are not about to be bullied into a bad deal for their tight end.
Rosenhaus engineered the Duke Johnson deal at the end of last year´s preseason.
After saying they would not yield to the player´s trade demand, Cleveland found an acceptable offer.
Johnson practiced, but he was not a vital part of Kitchen´s offense.
Njoku is a different story.
#Browns
Don't be surprised if tight ends Austin Hooper & David Njoku both have over 50 catches in 2020. Both players have Pro Bowl talent & offensive coordinator Alex Van Pelt runs a tight end friendly offense. #ScoutingSnippets pic.twitter.com/4v42E1IxKm

— Bridge (@BridgesFootball) June 1, 2020
Cleveland plans to use two tight ends a lot, and Njoku offers the best receiving threat opposite Hooper.
Berry drafted Harrison Bryant, but rookie tight ends are not usually ready to step into a big role.
Bryant is an exceptional receiving threat, but the nuances of pro-level blocking and routes are different.
Stephen Carlson is more likely to start opposite Hooper if Njoku is gone.
But after his dismal 2019 season and a reputation as a pass-catching specialist, Njoku´s value is low.
Too low to expect Cleveland to accept an offer before they can show Njoku remains a top-level asset.
With a shortened preseason, that might happen closer to the trade deadline than opening day.