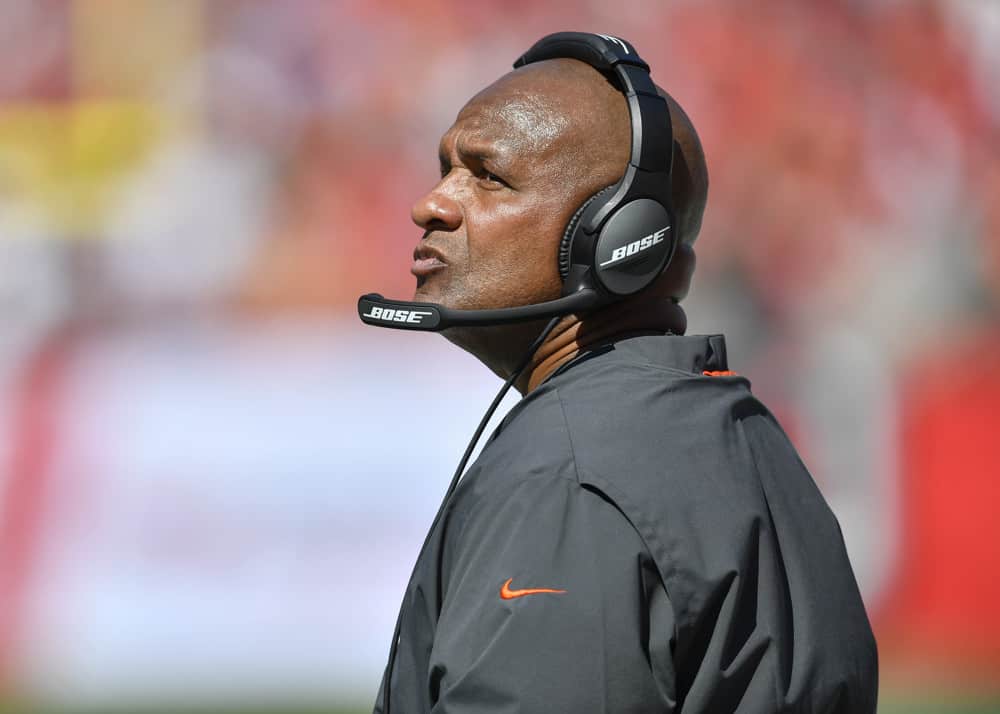 Former Cleveland Browns head coach Hue Jackson is back in football.
It is too late for April Fool's jokes so this is the truth.
Jackson is the newly minted offensive coordinator at Tennessee State according to the Orange is Oranger Browns Podcast per Jackson himself.
Hue Jackson has accepted the Offensive Coordinator position at Tennessee St. to work with new Head Coach Eddie George.

(per @huejack10)

— The Orange Is Oranger Browns Podcast (@OrangeisOranger) April 13, 2021
He has been out of the NFL since 2018; Jackson was special assistant to the head coach for the Cincinnati Bengals in 2018.
Tennessee State Is Hiring Former NFL Players and Coaches
Eddie George, former Houston Oiler and Tennessee Titan running back, was recently named the head coach at Tennessee State.
This is considered a bold move by TSU since George has never coached before.
Hall of Famer and former Baltimore Raven Ray Lewis was also in the running for the head coaching job.
Hue Jackson's name had been floating around as someone George wanted on his staff which has an NFL pedigree.
In addition to Jackson as the offensive coordinator, George hired his former head coach Jeff Fisher in an advisory role to assist with staffing.
Brandon Fisher, Jeff's son, will be part of the defensive staff though unclear in what capacity.
The younger Fisher was defensive analyst at Auburn during the 2020 season.
Sources: Eddie George's staff at Tenn St. likely to include OC Hue Jackson, DC Brandon Fisher, DBC Rod Woodson, DLC Clyde Simmons.

— Amp Wigg (@ShopTalkingWigg) April 13, 2021
Why Hue Jackson?
Someone will have to ask Eddie George that question.
Browns fans know all too well how Jackson managed (or mismanaged) the offense as the Browns head coach.
Prior to entering the NFL ranks in various coaching capacities in 2000, Jackson worked for over a decade in college football programs.
He was the offensive coordinator at USC from 1997-2000.
His NFL career has been a series of hits and misses.
From 2016-2018, as the Browns head coach, his record was 3-36-1.
What About Jackson's Book?
The last we heard from Jackson, he was bad mouthing the Cleveland Browns for a host of issues including lying.
Jackson has never really been able to accept responsibility for his role in the Browns disastrous years while he was the head coach.
Hue Jackson would always throw the team under the bus and rarely took blame for losses. I am not surprised by his comments here https://t.co/SCjquojmkn

— Stuart C Edmonds (@Its_BeefStu) March 31, 2021
It is true that not all of the blame lies with him, the organization was not well run at the time, but at some point, Jackson should just admit that he made mistakes just like everyone else did and move on.
He was focused on sharing more dirty laundry and teased that a book could be coming out with more details.
Perhaps this job at Tennessee State will preclude him from writing the book.
Browns fans have no desire to read his book or relive those years; brighter days are ahead.