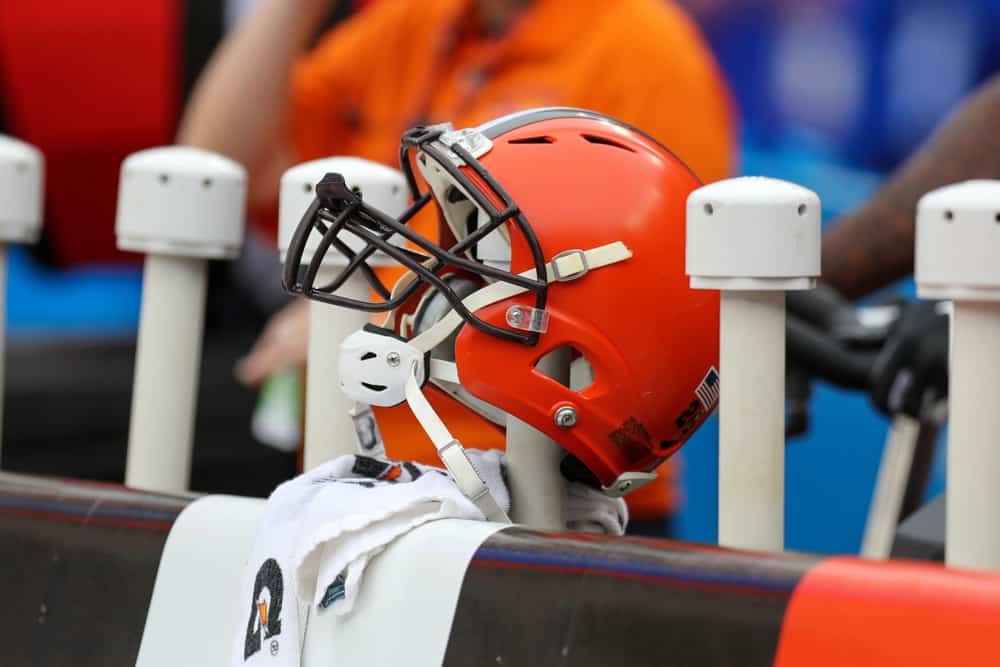 If David Njoku doesn't work out, there are options on the market.
Njoku is coming off a campaign that featured a major wrist injury that cut his production to just five receptions for 41 yards.
Currently, his stock is low enough for the Browns to trade him, and maybe get a sixth-round pick in return.
Worst case scenario, the Cleveland Browns keep Njoku for a contract year and let him prove his worth.
It still makes you wonder what the backup plan should be.
The Uncertainty
For fans, it's completely normal to feel insecure about the position.
Njoku's wrist injury really derailed his third-year; however, there is optimism he can regain his form.
In 2018, Njoku caught 56 passes for 639 receiving yards and four touchdowns.
At the NFL Combine, Berry reiterated that the Browns believe Njoku will regain his initial form.
"We view David Njoku as a talented pass catcher who will take a step forward this year," Andrew Berry at the Combine. Njoku caught five passes in 2019.

— Jeff Schudel (@jsproinsider) February 25, 2020
Even with that statement of confidence, rumors are swirling that Njoku could be up for a trade.
If that is the case, the Browns could cash in on more draft capital and make a signing in free agency.
If that is the case, here are some of the best options.
Eric Ebron, Indianapolis Colts
Eric Ebron is set to be a free agent and is a prime candidate for what Mayfield likes in a tight end.
At 6-foot-4 and 245 pounds, Ebron has been a red-zone target in the past.
Ebron was named to the Pro Bowl last season after recording 66 receptions for 750 yards and 13 touchdowns, which led all tight ends in the league.
After being placed on the IR on November 26th, Ebron would also likely be a cheap option.
Ebron will be 27 next season, which means that he still has plenty of prime years to come.
Austin Hooper, Atlanta Falcons
If the Browns were to make a splash in free agency, Austin Hooper would make a lot of sense.
The Browns will have an estimated $52 to $55 million in cap space this offseason.
By signing Hooper, you add an offensive upgrade over Njoku, or pair Hooper alongside him.
Let Njoku play for a little bit, and then trade him to a team in need of a tight end for a draft pick midway through the 2020 season.
Hooper could command a salary similar to the likes of Zach Ertz, Kyle Rudolph, or Jordan Reed, who all make between $8-$9 million.
Hooper finished 2019 with 75 receptions, for 787 yards and six touchdowns in 2019.
Hooper is 6-foot-4, 253 pounds, and a big target that the Browns have lacked.
If the Browns could swing both Hooper and a healthy Njoku, now that's even better.
OJ Howard, Tampa Bay Buccaneers
O.J. Howard was once reported to be on the trading block midseason, via Matt Miller of Bleacher Report Insider.
Could O.J. Howard be on the move? 👀 Potential trade involving the Bucs TE is one of the "hottest rumor[s]" among scouts, per @nfldraftscout pic.twitter.com/89Pdijhm2Y

— B/R Gridiron (@brgridiron) October 13, 2019
If the Browns are looking to save their money and trade draft capital, Howard could be a prime candidate.
Howard has not lived up to expectations after being drafted 17th overall in the 2017 NFL Draft.
The former Alabama product has just 34 receptions for 459 yards and one touchdown.
A change of scenery could be beneficial for Howard, especially since the Bucs are likely moving on from Jameis Winston.
Howard would likely only cost the Browns a sixth-round pick, something the Browns can certainly afford.
Final Thoughts
The draft is not an option; otherwise, the Browns will just keep Njoku.
If the Browns want to gamble on Njoku, that seems like a legitimate play.
If not, the Browns have some options to choose from.