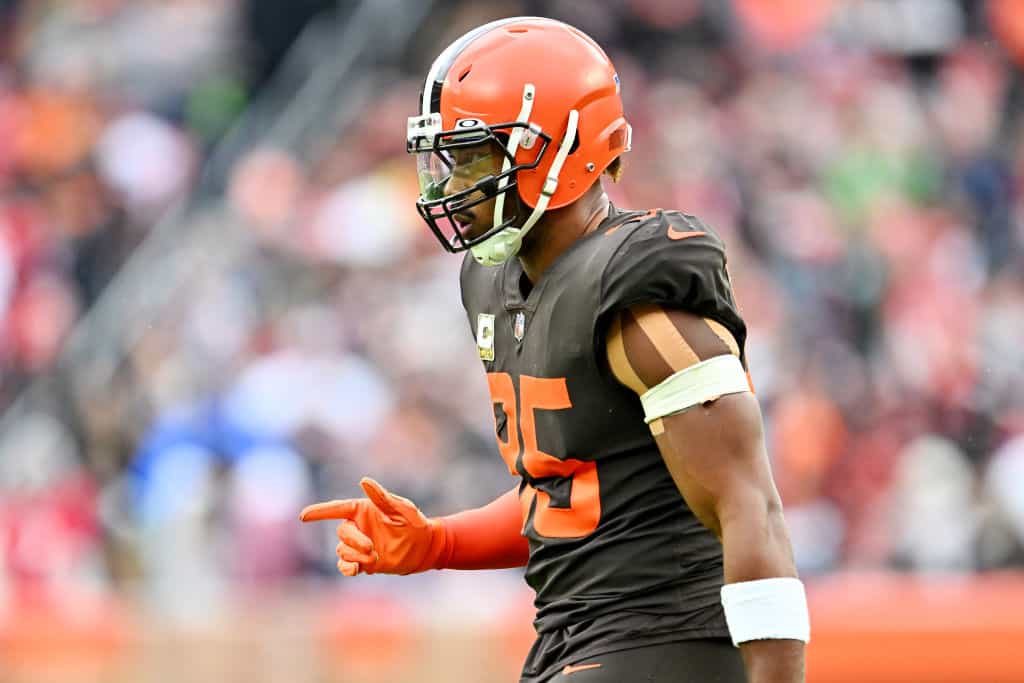 Even though he's mostly known for being the Cleveland Browns' defensive anchor, Myles Garrett is a man of many talents.
The former No. 1 pick is a well-known basketball fan and quite the hooper, and he's shown it off with multiple appearances in pick-up games, the NBA's All-Star Celebrity Game, and even the NBA Summer League.
That's why it wasn't much of a surprise to see him go viral for his hops again, as the Browns' Twitter account shared a clip of him showing off his athleticism with some impressive dunks after practice.
Myles had some dunk contest worthy slams after practice 🤯🏀 pic.twitter.com/T9veYbIKx7

— Cleveland Browns (@Browns) June 8, 2023
The 6-foot-4 physical specimen has a nice bounce and a great feel for the game.
He might not be NBA material skill-wise, but he definitely has the athletic traits and physical condition to at least be an end-of-the-bench kind of guy, that's for sure.
Even so, Browns fans would much rather watch him take it easy after practice instead of trying to dunk basketballs, as there's a long season ahead for him and they don't want any injuries or nagging pains getting in the way.
The Browns have revamped the defense around Garrett, and the feeling within the organization is that they will have a top-5 pass-rush unit with him and Za'Darius Smith wreaking havoc at the line of scrimmage.
With Jim Schwartz leading the way, only injuries could hold this promising defensive unit back.
But now that Garrett has officially retired from participating in Pro Bowls, it's only right that he at least gets to entertain himself with some hoops .