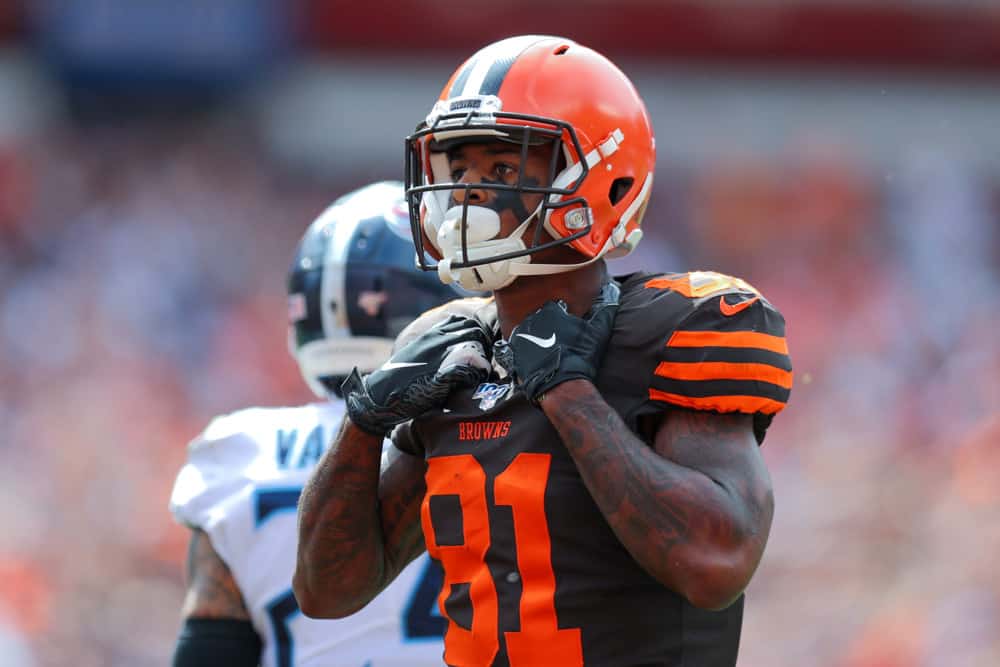 The Cleveland Browns have been one of the busiest teams so far in free agency.
But, many fans are still left wondering if the Browns are going to re-sign wide receiver Rashard Higgins.
Mary Kay Cabot of Cleveland.com reported last month that the Browns met with Higgins' reps at the combine and would be interested in him at "the right price."
So far, there hasn't been much interest in Higgins in free agency.
The Buffalo Bills have been the only team that has been reported to express interest in the wide receiver.
Can confirm that the #Bills have expressed interest in former #Browns WR Rashard "Hollywood" Higgins.

Higgins had a 39-572-4 stat line in 2018. He had 4 receptions in 2019. One of which was a GW TD vs. Buffalo.@BuFFanatics noted interest in Higgins yesterday. #BillsMafia

— Ryan Talbot (@RyanTalbotBills) March 19, 2020
In regards to football, Higgins hasn't said a lot on social media lately, but did recently post his thoughts on free agency so far.
Free agency feel like the Nfl draft all over again.

— Wood (@CALLME_WOOD) March 21, 2020

Earlier this month, Higgins also retweeted a fan who responded to a tweet saying Higgins would be a great fit next to Odell Beckham Jr. and Jarvis Landry.
His name is @CALLME_WOOD 🤗 don't worry, I got you. https://t.co/ghNyVubR2v

— Kyle Miracle (@Kmiracle23) March 13, 2020
Will the Browns re-sign Higgins?
The Browns have been doing a lot of short contracts in free agency.
A short-term deal in Higgins' case would make a lot of sense.
With a new coaching staff, the Browns could give Higgins a chance to establish himself as the No. 3 receiver, a role he was expected to have in 2019.
2018 was when Higgins became "Hollywood," as he became a favorite target for Baker Mayfield.
Mayfield talked last season about the chemistry he had with Higgins.
"It goes back to last year and getting reps with him with the second team," Mayfield said, via Canton Rep. "We built chemistry. I talked to him all the time. … You knew exactly what you were going to get out of him on every play."
The two connected for 39 receptions, 572 yards, and four touchdowns in 2018.
In 2019, Higgins missed the season opener with an MCL spain, and was never able to get on track after that.
For much of 2019, why Higgins wasn't on the field was a mystery to many Browns fans.
Former head coach Freddie Kitchens always denied that Higgins was in his doghouse.
Higgins watched receivers such as Damion Ratley and Khadarel Hodge play ahead of him while he sat on the bench.
Higgins managed just four catches for 55 yards and one touchdown last season.