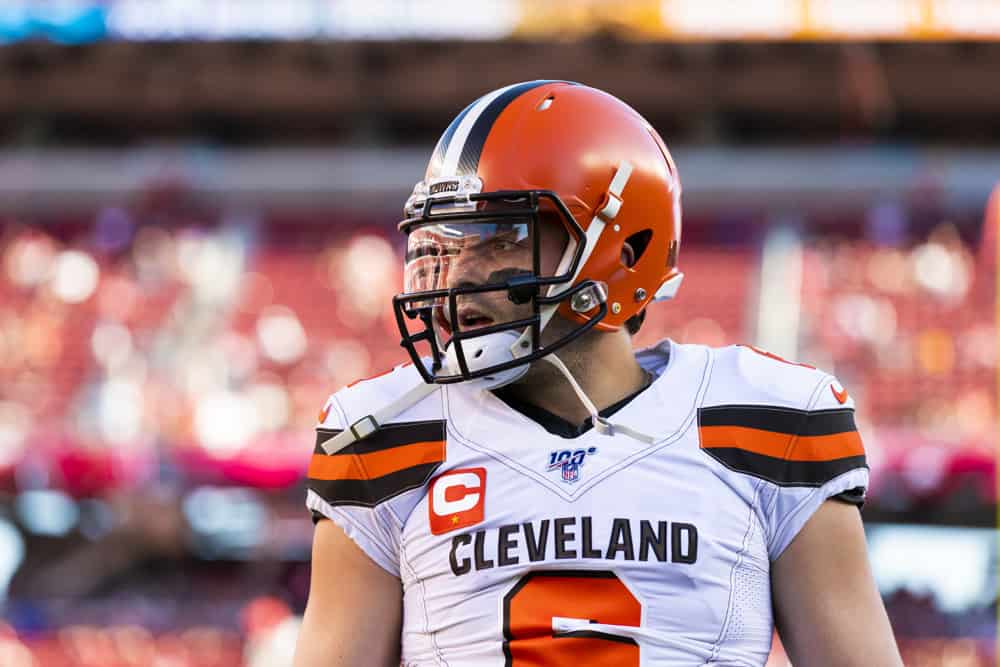 Drafting quarterbacks in the first round has never been a strong suit of the Cleveland Browns.
Add that to the list of curses, trends, and historical quirks waiting for Baker Mayfield to reverse.
Tim Couch was the first draft pick of the Browns' post-exodus era back in 1999.
He took over as a starting quarterback in the second week of his rookie season.
Couch hung around for 5 seasons, although Kelly Holcomb battled for time with him over the final two.
Holcomb started the only Browns playoff game during that stretch, a 2002 loss.
When he was released in 2004, Couch had a 22-37 record.
He never caught on with another team and it wasn't unusual to see his name among lists of draft busts.
And it was all downhill from there for the Browns.
However, if the Browns win their 9th game next season Mayfield will have equaled the win total of the Browns' previous 4 first-round QB's combined.
When @Browns win their 9th game this fall, @bakermayfield will have equaled the win total of our previous four first round QB picks combined.#Browns pic.twitter.com/H41WOO0LMj

— D Traver Adolphus (@proscriptus) May 14, 2021
Fans Count on Mayfield To Put It All Behind Them
Before drafting Baker Mayfield in 2018, Cleveland selected 3 other quarterbacks in the first round.
All three were selected 22nd overall in their respective drafts, a position Browns fans never want to be in again.
In 2007, Cleveland had 2 first-round picks, landing Joe Thomas at number 3 before taking Brady Quinn at 22.
Quinn finished with a 3-9 record in his short stint.
.@SeanUnfiltered on @BullandFox re: #Browns Baker Mayfield: "Cleveland's got themselves a stud and star for the future. You found your quarterback, he's there. He makes everyone around him better. He did exactly what the first pick in the draft is supposed to do."

— Keith Britton (@KeithBritton86) September 26, 2018
Five years later, the Browns again had the number 3 and 22 picks, taking Trent Richardson ahead of Brandon Weeden.
Weeden hung on long enough to go 5-15 before Cleveland took a third shot at a first-round quarterback.
The Curse of Pick 22 was cemented with the selection of Johnny Manziel, who went 2-6 in his tumultuous tenure.
All told, the quartet that preceded Mayfield won 32 games.
The #Browns picked Baker Mayfield for many reasons, but they viewed him as the most competitive quarterback in the draft — and they weren't alone.

— Seth Wickersham (@SethWickersham) April 27, 2018
Baker Mayfield enters the 2021 season with a 23-22 won-loss record.
If the Browns meet expectations this year, Mayfield will own more wins than the other 4 put together by January.
He already has more playoff appearances and wins, and a Pro Bowl appearance would be the first among the group.
First-Round QB Woes Not Just a Modern Browns Problem
Life hasn't been good for the Cleveland Browns and their fans since their return.
At least until last season, when the hints of what was to come during Mayfield's rookie season came to life.
But the prior version of the Browns had issues selecting first-round quarterbacks, too.
In 1952, with the 12th overall pick of the 3rd ever NFL Draft, Cleveland chose a star in Harry Agganis.
"If you're going to draft a quarterback No. 1 you better know he's going to give you some WOW and you can give him keys to that car Day 1."@ColinCowherd reacts to Baker Mayfield being named Browns backup QB pic.twitter.com/5hdGhWW7gP

— Herd w/Colin Cowherd (@TheHerd) September 5, 2018
Unfortunately, he was also a star baseball player and ditched the NFL for a job with the Boston Red Sox.
The Browns' second attempt didn't go much better when they took Bobby Garrett in 1954.
Garrett was the first overall pick of that draft and never played a game, leaving football after one season.
The closest thing to success before Mayfield came with the selection of Mike Phipps in 1970.
The most Browns thing ever will be when Sam Darnold or Lamar Jackson turns out to be the best quarterback in this past draft and Baker Mayfield is a bust…..

— Paul Zeise (@PaulZeise) September 11, 2018
Cleveland's third-overall pick took over as the starter in his third season, taking his team to the playoffs.
But he lost that game and went on to post an up-and-down tenure culminating in a 24-25-2 record.
Phipps arguably made his biggest contribution to the Browns after he ceded his starting role to Brian Sipe.
Cleveland traded him to Chicago for a first-round draft pick that became Hall of Famer Ozzie Newsome.
Mayfield Erasing History and Setting Records
Ten wins in 2021 give Mayfield more wins than the other four post-exodus first-round picks.
And 24 more will land him the all-time spot dating back to 1950.
But Mayfield is climbing the charts against all Browns quarterbacks, not just his fellow first-rounders.
His second victory in 2021 pushes him past Phipps for the 7th most QB wins in Browns' history.
Mayfield is 11 wins away from tying Bill Nelson for the 5th-most victories all-time by a Browns quarterback.
He needs just 2247 passing yards to pass Couch and Frank Ryan and own the 4th most overall.
QB @bakermayfield is the only rookie in @NFL history with a 150+ passer rating on 20 or more pass attempts in a single game 🎯 pic.twitter.com/0PeQe6204y

— Cleveland Browns (@Browns) November 11, 2018
Baker already has the fifth most touchdown passes in team history, 41 behind Bernie Kosar's 4th place total.
With 7 game-winning drives, he sits just one behind the great Otto Graham (he was rarely behind) for 5th best.
Three more would give Mayfield the third-most game-winning drives, behind Kosar and Sipe.
The new 17-game schedule gives Mayfield a faster route to the record books.
But it won't lessen the satisfaction of erasing some bad history for the Browns first-round quarterbacks.