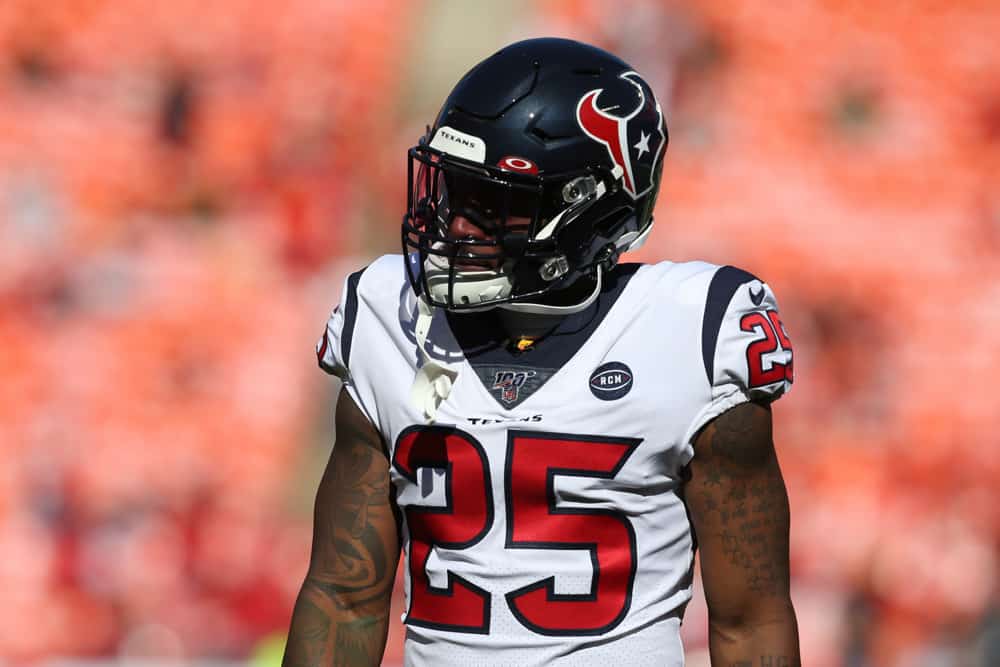 The Houston Texans have ruled out starting running back David Johnson for Sunday's game against the Cleveland Browns.
It means former Browns running back Duke Johnson will get the start for the Texans instead.
"I just think the more opportunities I get, the more you get a rhythm in a football game," Duke Johnson said. "And, you have more and better opportunities to make more plays the more touches you get.

"The way you give it to me, it doesn't really matter to me, to be honest. I just want to be able to go out there and make plays."
David Johnson, 28, is one of two Texans offensive starters out with a concussion.
Guard Max Scharping will replace starter Senio Kelemete, who is also out with a concussion.
Through eight games this season, David Johnson has averaged 4.0 yards per carry while Duke Johnson has averaged 2.8 (95 rushing yards on 34 carries).
In Week 9, Duke Johnson had 16 carries for 41 yards and a rushing touchdown.
Duke Johnson also had four catches on four targets for 32 yards.
Earlier this week, interim Texans head coach Romeo Crennel was complimentary of Duke Johnson's efforts filling in for David Johnson.
"I think Sunday was a great example of what Duke brings to the table," Crennel said. "He went in there and after David got hurt, he took I guess just about every snap. I think maybe he was out for two plays after that, but he took every snap.
"That was blocking, that was running, that was pass receiving and he's a productive runner. He's got great vision. [He's] got quick feet and he can make people miss, so that's what we expect from him going forward."
During Week 9, Duke Johnson's 20 touches marked his NFL career-high.
"I think I am ready, but time will tell," Duke Johnson said. "I think I gotta go out and focus on these next couple of days, make sure I'm prepared mentally for every situation. So I will be prepared for the game, but I think going out and giving it everything that I got, and letting the cards fall where they may."
The 2017 season marked the last time Duke Johnson had double-digit touches in an NFL game.
David Johnson suffered a concussion during the Week 9 win over the Jacksonville Jaguars.
The concussion came as a result of a huge hit by Jaguars linebacker Myles Jack.
Duke Johnson, 27, played for the Browns from 2015-2018.
"My memories are it's cold," Duke Johnson said. "It will probably be a fun time for me, not really too emotional. I think just seeing the guys and the guys that I played with."
Sunday's forecast calls for a high temperature of 58 degrees and a 90% chance of rain at FirstEnergy Stadium in Cleveland.
On Thursday, Duke Johnson discussed why he's beloved in Cleveland.
"I think it's my demeanor whether we were winning or losing, I was always the same guy whether it was to the media or the people in the building or the players. It really doesn't matter, or just being around the city," Duke Johnson said. "I think it's just my demeanor me just being respectful regardless of who I am and what I do. Just treating everybody the same. I think they love me as a person more than anything."
In August 2019, the Browns traded Duke Johnson to the Texans for a 2020 third-round pick.