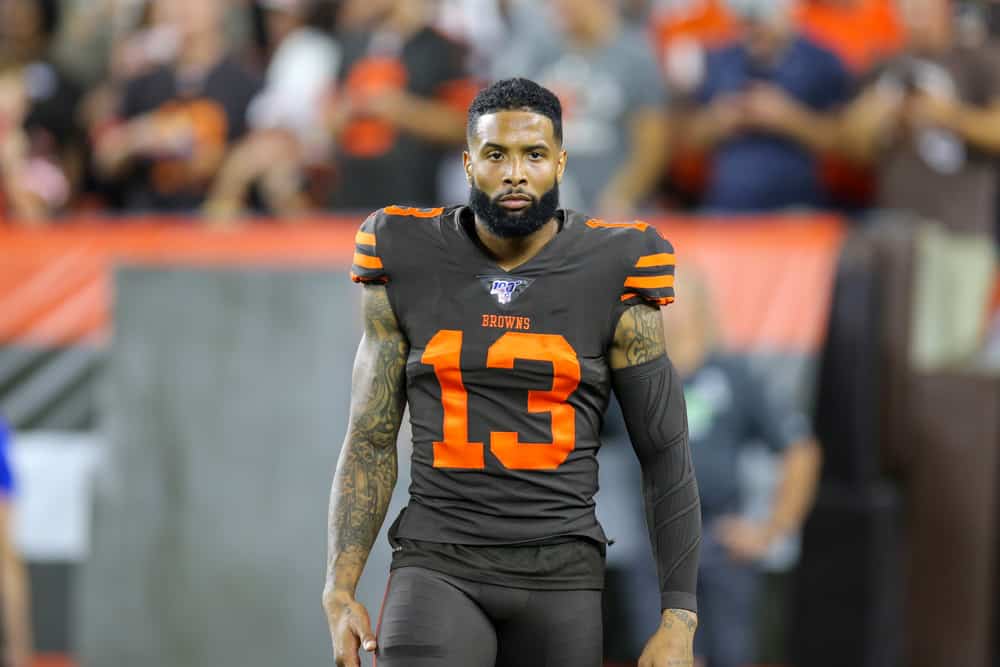 The Cleveland Browns introduced new general manager Andrew Berry yesterday.
During the press conference, Browns owner Jimmy Haslam touched on the future of Odell Beckham Jr. in Cleveland.
When asked if he thought the star wide receiver would be back in 2020, Haslam had this to say per Cleveland.com
"Absolutely,'' Haslam said at the press conference to introduce new GM Andrew Berry. "Odell is extremely talented. He was hampered by the groin injury. Listen, he could have done some things better and we could have done some things better. I think Kevin [Stefanski] is very excited to have Odell on the team. The surgery went well, he's rehabbing and we look forward to having him and being a big, big producer for the team this year."
Of course, Beckham had surgery last month to repair a core muscle.
Odell wishes he could've played to his full potential. pic.twitter.com/0BgUqCBDPp

— SportsCenter (@SportsCenter) February 4, 2020
One thing is for sure, Odell Beckham Jr. was not at the level that fans hoped he would be last season.
It's good to see Haslam acknowledge this instead of trying to pretend that 2019 was some huge success with him.
What's even more interesting, perhaps, is that he doesn't shift too much blame away from Odell for this.
Last season's failings around Beckham were far from his fault alone.
But there were more than a few makeable plays throughout the season that Odell failed to capitalize on.
Even his route-running seemed sub-par some weeks.
Again, though, things should not fall squarely on him.
Baker Mayfield certainly took a step back as a quarterback this season.
Freddie Kitchens did not piece together proper game plans all season.
Toss in a plethora of other distractions surrounding the 2019 Browns, and you get one huge heap of disappointment.
Haslam is well-aware of this, as he eluded to in yesterday's press conference.
Understanding that is a step in the right direction.
Fans are hopeful that Odell can be the "big producer" that Haslam claims he will be in 2020.
Beckham did have over 1,000 yards receiving and 136 targets.
Why buy #Browns WR Odell Beckham right now?

Kevin Stefanski's hyper-efficient play-action game

Despite fewest rec (63) and tgts (94) since rookie yr, Stefon Diggs:

-Set career-high in yds (1130)
-Ranked No.1 in deep yds (635) & TDs (6)
-4th in YPC (17.9) & 2nd in YPTgt (12.0) pic.twitter.com/2Mbr5Wgwdi

— Wolf of Roto Street (@RotoStreetWolf) January 21, 2020
But, his presence disappeared in the red zone.
He had just 11 red-zone targets in 2019, the lowest of his career excluding 2017.
That was 44th in the NFL, a mark simply unacceptable for one of the game's top receivers.
Of course, some of that can be attributed to the play-calling of Kitchens and quarterback-play of Mayfield.
None of that matters going into 2020 though.
What matters are results, and both Beckham and the Browns hope to see much better ones next season.
Head coach Kevin Stefanski certainly thinks Odell can be a contributor.
Earlier this week he said he believes in Beckham and wants him on his team in 2020.
Obviously there aren't too many coaches who would say they didn't want that kind of talent on their roster.
You don't just get the talent though.
You get non-approved cleats, watch-related distractions, offseason issues such as the LSU post-game controversy, and more.
The key is managing all of that and still finding a way to keep Odell's production up.
Haslam certainly thinks it will happen in 2020.