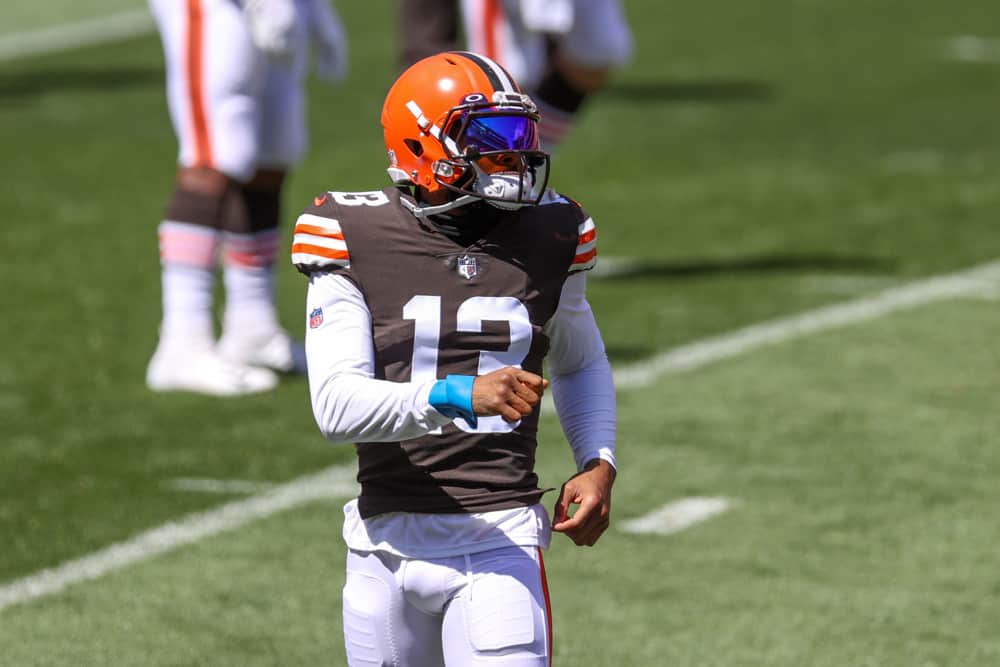 Odell Beckham Jr. and Saquon Barkley are putting in work this offseason as they both recover from torn ACL injuries.
On Tuesday, Beckham posted pictures on Instagram of a workout with his former New York Giants teammate.
View this post on Instagram

The Instagram post did not have a text caption.
.@obj and @saquon on the ACL comeback trail together 🙏 pic.twitter.com/H9FKvpV97Z

— B/R Gridiron (@brgridiron) March 2, 2021
In January, Barkley told ESPN he planned to rehab with Beckham.
"We're really good friends. Competing with each other and pushing each other will also be good too," Barkley told ESPN during an interview he did while promoting Campbell's Chunky Million Meals Challenge. "That's the only thing I know for certain I will do."
Beckham, 28, tore the ACL in his left knee during the Browns' 37-34 win on Oct. 25, 2020, over the Cincinnati Bengals.
In November 2020, Beckham underwent surgery to repair the knee.
It marked the second straight offseason Beckham had surgery.
In January 2020, had core muscle surgery.
During the 2020 regular season, Beckham finished with 23 receptions on 43 targets for 319 yards, three receiving touchdowns and one rushing touchdown.
Beckham missed out on the Browns' first playoff appearance since the 2002 season.
On Tuesday, Browns head coach Kevin Stefanski spoke with media members and got asked about Beckham's return to the playing field in 2021.
"I really don't have much of an update, other than I know he's doing great," Stefanski said of Beckham. "Our medical people are in contact with the guys he's working out with. As you can imagine, he's attacking this thing. So I know he's doing great."
Beckham is under contract with the Browns through the 2023 season.
Stefanski said he anticipates Beckham can raise his level of on-field production in 2021.
"He's, as you can imagine, very very committed to getting back to 100%," Stefanski said. "He's well on his way in his rehab. So, excited about his future."
Barkley, 24, tore his right ACL in a Week 2 loss to the Chicago Bears.
In October 2020, Barkley had surgery to repair his injured knee.
Last season, Barkley finished had 19 carries for 34 yards and had six receptions for 60 yards.
The Giants finished the 2020 regular season with a 6-10 record and missed the playoffs for the fourth straight season.