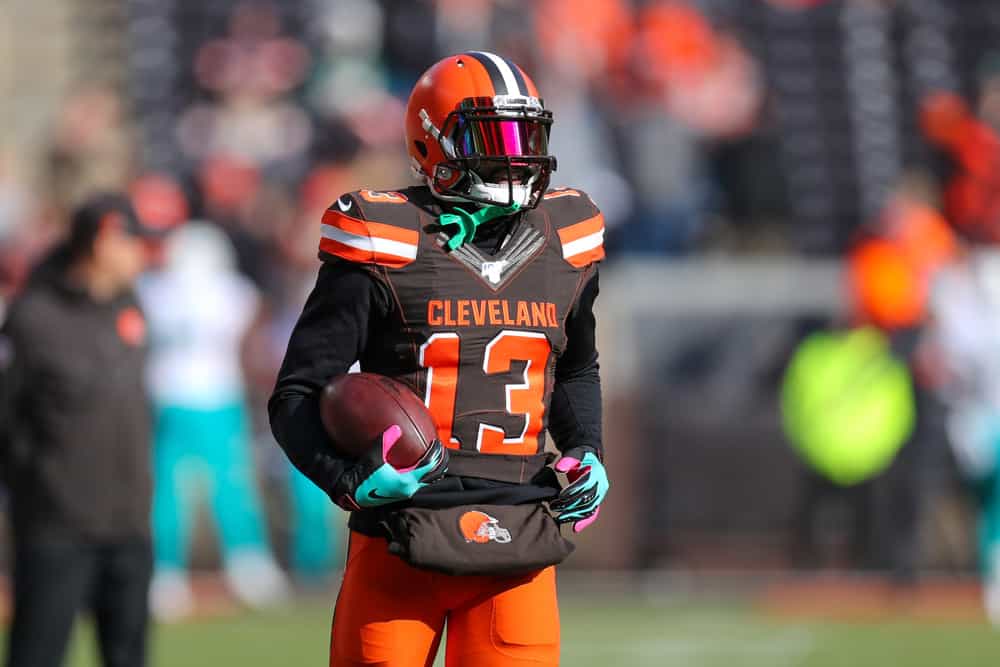 During the offseason, Cleveland Browns wide receiver Odell Beckham Jr. has been in the news about trade rumors.
However, Browns first-year general manager Andrew Berry is not taking any chances with the 2014 AP Offensive Rookie of the Year and three-time Pro Bowler, via Nick Shook of NFL.com:
"We've been clear from the beginning that we view Odell as a fantastic player. We're a better team with him on the field. We see him as a long-term member of the organization. We really like how he's acclimated and adjusted with the new staff. So the rumors, that's not something that we can control, but we're happy to have him as a part of our organization."
Although Berry has mentioned that rumors have circulated about Beckham's availability via trade, he is seemingly unwavering on Beckham staying in Cleveland.
On April 16, Browns Chief Strategy Officer Paul DePodesta felt the same way.
Prior to the 2020 NFL Draft, a CBS Sports mock draft included the Minnesota Vikings acquiring Beckham in a trade.
Should Browns be Shopping Beckham?
Is this a case of 'where there's smoke, there is fire?'
For now, the best guess is 'no.'
Beckham has not recently voiced any displeasure about being with the Browns organization.
He has been keeping himself in shape and busy doing a variety of things, including intense workout routines and moves on the basketball court:
OBJ workin' on that LeBron signature shot 🤣 (via @obj) pic.twitter.com/eJltTDlykr

— Overtime (@overtime) April 29, 2020
How Beckham Fits into the 2020 Browns Offense
The 2020 Browns offense is ready to explode.
After a season in which Cleveland scored just 20.9 points per game, Baker Mayfield and company will have to improve.
Berry and first-year head coach Kevin Stefanski are ready to help Mayfield succeed with his powerhouse of talent around him.
Baker Mayfield's 2020 weapons:

RB Nick Chubb
RB Kareem Hunt
WR Odell Beckham Jr.
WR Jarvis Landry
WR Rashard Higgins
WR Donovan Peoples-Jones
TE Austin Hopper
TE David Njoku

& a pretty solid offensive line. pic.twitter.com/jnKY6bOZM5

— Damon J. Kecman (@DownWithDamon) April 28, 2020
The Browns ranked in the middle of the pack in terms of offensive yards per play in 2019.
They were just one of seven teams to have fewer than 975 offensive plays from scrimmage though.
Mayfield will also have better protection from his offensive line in 2020.
He was very excited to see the Browns select Alabama offensive tackle Jedrick Wills Jr. with the No. 10 overall pick in the first round of the 2020 NFL Draft.
The Browns had an above-average rushing offense last season, but they struggled with passing.
Even with Beckham and Jarvis Landry, Cleveland passed for just 22 touchdowns, which ranked 19th in the NFL that season.
Heading into the upcoming season, there will be high expectations for the Browns.
They last achieved a top-10 offense in 2007, which was Joe Thomas' rookie season.
With Wills coming in for his rookie season, the Browns hope that the strong offensive line leads to a strong offense.