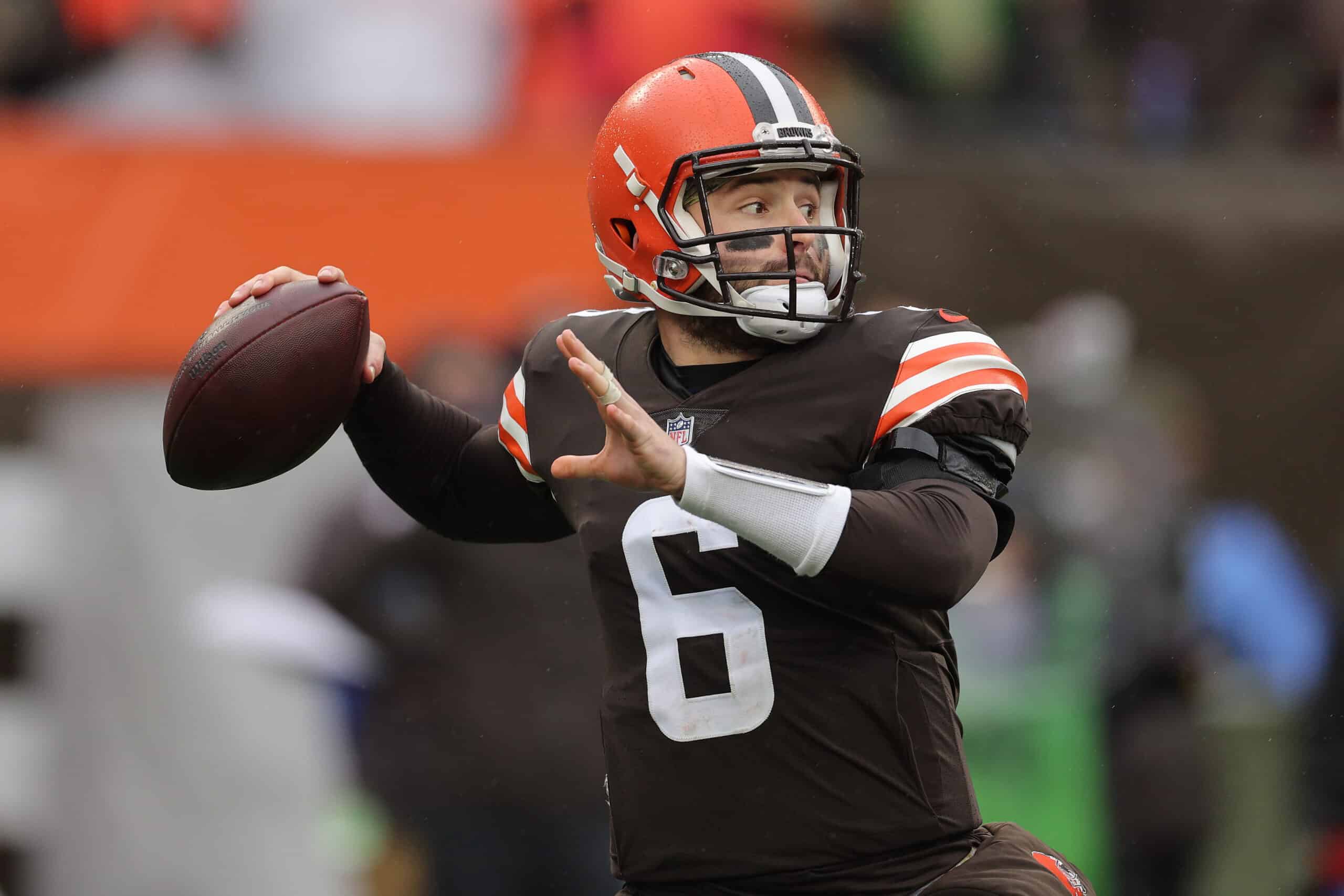 ESPN analyst and former NFL linebacker Bart Scott is criticizing Cleveland Browns quarterback Baker Mayfield yet again.
On Thursday, ESPN "Get Up" analysts discussed whether the Browns would be better starting a banged-up Mayfield or a healthy Case Keenum.
"He's average at best," Scott said of Mayfield. "Let's be real. He's the third-best quarterback in that division."
Scott inferred Baltimore Ravens quarterback Lamar Jackson and Cincinnati Bengals quarterback Joe Burrow are better than Mayfield.
Mayfield and Jackson will likely seek a contract extension worth the $43 million per year the Buffalo Bills are due to pay Josh Allen through the 2028 season.
However, Mayfield has not played anywhere near the level of Jackson or Allen.
The three quarterbacks were each first-round picks in the 2018 NFL Draft.
Mayfield and Jackson are each under contract with their respective teams through the 2022 season.
"This is about Baker Mayfield trying to get the bag, and he knows if he lets Case Keenum play and Case Keenum plays better to him, then he doesn't have any negotiating power," Scott said. "He bet on himself and he bet wrong because he's an average quarterback.

"I've been telling you guys this for years. This dude is not good, and they have to move on."
Scott said he would not pay Mayfield $40 million per season.
It is a decision Browns general manager Andrew Berry and the front office will eventually need to make.
Scott also criticized Mayfield's commentary earlier this week about Browns fans who booed him at FirstEnergy Stadium.
"Now (Mayfield) is going at the Dawg Pound. How dare you?" Scott said. "I'm the only person and the Ravens and the people in that division are the only people that go at the Dawg Pound. You're going at the Dawg Pound? You just signed your death wish, Baker."
Mayfield, 26, is playing despite injuries to his shoulder, knee, foot and groin.
Scott, who played for the divisional-rival Baltimore Ravens from 2002-2008, didn't buy injuries as an excuse for Mayfield's poor play.
"Come on, man. We all have been there," Scott said. "I played with no ligament in my big toe for 13 games. Stop it."
Scott also brushed aside that Mayfield's injuries impact his mobility.
"What mobility? This dude doesn't have mobility," Scott said. "He doesn't have (any) athleticism."
Fellow ESPN analyst Dianna Russini thinks the Browns would be better to start Keenum.
"If you can just have a quarterback who's out there, who's healthy, how can complete a few passes (and) stay in the pocket, you have a better chance of success versus Baker who is really going to try to do everything he can to pretty much make up for the fact that he is dealing with a lot of significant injuries," Russini said.
Russini credited Mayfield for trying to play through the injuries, but questioned whether it was helping the Browns win.
Earlier this month, Russini said she thinks the Browns would be best served to move on from Mayfield.
Analyst and six-time Pro Bowl center Jeff Saturday said it ultimately doesn't matter who the Browns start at quarterback as long as they don't turn the ball over.
Saturday also acknowledged he played through injuries throughout his 14-year NFL career.
"As a player, you (aren't) taking yourself out," Saturday said.
Saturday said former Indianapolis Colts general manager Bill Polian is the one who would force him to sit out due to injuries, not even his coaches.
"If a guy takes himself out, man you don't want to follow him anyway," Saturday said.